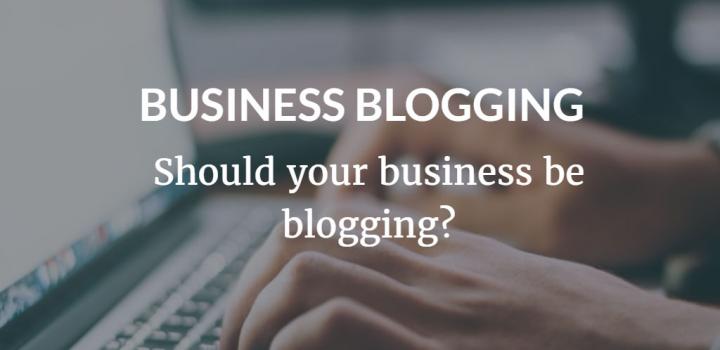 What do you think of when you hear the word 'blog'? Arts and crafts? Recipes? Parenting? Fitness? It's a common assumption that blogs are just online diaries about hobbies or personal endeavours. As a business owner, you might struggle to see how this applies to you.
What is blogging? 
In reality, blogging is simply the act of creating a piece of online content. A blog is a collection of this content, focusing on a certain theme. That theme can be a hobby, of course, but it can also be your business. We're blogging about our business right now!
Should your business be blogging?
In short, yes!
Blogging is a great low-cost way to promote your business. Think of it as a marketing channel, just like advertising or social media. Done right, it can help to grow your business, drive sales and build relationships. 
How? In our previous article, The Importance of Keeping Your Website Updated, we explained the benefits of adding fresh new content to your website on a regular basis. Well, having a blog gives you the perfect opportunity to reap those benefits and more. Let's find out how!
1. Increasing Traffic
Compared to paid advertising, blogs are a relatively inexpensive way to get more traffic to your site. More traffic means more opportunities to turn visitors into paying customers. It's hard to argue that this is a pretty great benefit, but how does blogging help you to achieve it?
First, regularly adding new and interesting content to your blog gives your existing visitors a reason to keep coming back.
Second, you can promote your blog posts on your social media accounts, direct potential customers to your blog posts for frequently asked questions, case studies and reference material, which encourages people to visit your website. You can also grow your audience by encouraging them to share your content with their friends.
2. Boosting Your Search Ranking
Blogging can also boost traffic by increasing your search ranking on sites like Google and Bing.
Your search ranking refers to how high your website shows up in the results when people search for the goods or services you offer. People don't tend to look past the first few results, so you want to be as high up as possible to increase the chances they'll find your site. 
Having more web pages on your site means more opportunities to increase your search rank. However, you can't just add extra pages for the sake of it. That's where a blog comes in, allowing you to update your site regularly with relevant, search-friendly content. And with each different post, you expand the number of search phrases that you'll show up for.
What do we mean by that? Well, let's say you're a home renovation specialist and you publish a post called '10 Ways to Renovate your home on a Budget.' Meanwhile, somebody is searching for phrases like 'home renovations on a budget'. Your blog appears in the results, they click through to your site, and you have the opportunity to turn them into a customer. The more different topics you post about, the more of these opportunities you'll create.
Ok, so you've increased your traffic and people are clicking through to your blog post - what next?
3. Increasing Conversions
Your ultimate goal is conversion, which is another word for turning your visitor into a lead or a customer. You might want to do this by encouraging them to contact your sales team, schedule a consultation, download a resource, sign up to your newsletter, or to buy your product there and then.
Your blog post is an excellent place for you to have a conversation with potential customers about why they should take that action. As well as telling them how they'll benefit, you can also address any objections they might have. 
For example - selling a pricey product? A blog post about why buying cheap can backfire reminds your readers that it's worth paying for quality. Skeptical customer base? A case study proves how your product gets real results for people just like them.
It's important to remember that not everyone who reads your blog posts will convert. Some will buy immediately, some will leave never to be seen again, and others will stick around in the background. They might not be ready to convert just yet, but your blog is a great way to keep them on the back burner.
4. Providing Value
 Regardless of whether they're buying or not, the idea behind each piece of content should be to offer value to your readers in some way. You might do this by offering free advice and resources, helping them to save money, or even just entertaining them. Whatever you do, there should be a clear benefit for the reader.
But wait, how does this help you? First of all, by offering consistently useful information through your blog, you build trust with your readers and you gain a reputation as a knowledgeable leader in your field. Your reader may not be looking to buy at that time, but who's going to spring to mind when they are? You!
Second, by offering free and valuable information, you create what's called reciprocity. We're naturally hardwired to want to repay acts of generosity. This means that when your readers have been benefiting from your advice or resources, they're much more likely to listen to what you have to say. When you ask them to check out your special offer or sign up to your newsletter, for example, they're much more likely to oblige.
So what should you write about?
You can write about anything relevant to your business, but it's a good idea to make sure the content addresses a particular need, question, desire or concern that your customers typically have. You can do this in the form of: 
Articles
News items
Opinion pieces
Announcements
Updates
Helpful resources
Reviews
Product launches
Guides
Interviews
Case studies
Tips, tricks and advice
Stuck for blog post ideas?
At Bee Online, we can help create engaging, creative and compelling blog content for businesses just like yours. If you want to tap into the power of blogging for your business, we'll show you exactly how to make content work for you. Get in touch now to find out more about your tailor-made business blogging strategy.